Immediate Need: (306) 773-2931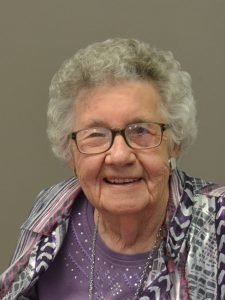 In Memory of
Helen Letkeman
Saturday, June 9, 2018


Obituary of Helen Letkeman
Helen Letkeman was born in the Morse district on May 9, 1924, and passed away on June 9, 2018, in Herbert. Helen was the seventh of ten children born to Peter and Katherine Falk. She was educated at Lundeen School. She married Abe Letkeman on November 8, 1947, and together they raised five children. The first two years of their marriage were spent trying to make a go of farming, after which, Abe began working for a construction company. After the first few years of their marriage they took up permanent residence in Herbert.
Helen was always fully devoted to raising her children and meeting their needs as best as she possibly could. These were no easy tasks, as resources were limited and for a number of years Abe was away during the week when it was construction season. One of the things that Helen did to provide for her children was to make clothes. It was commonplace to see those packets of patterns around the house. She also planted a massive garden to feed the growing family. She even did part time outside of the home during these years in order to supplement income for the household. When the children became teens and adults, she began working at the Herbert Nursing Home, which she did until age 65. Helen continued to live in her house until 2012, when she moved to the Herbert Heritage Manor, now called the Prairie Wind Estate.
Giving up one's home and its independence is a process and so it was with Helen. But, there came a time when it was clear that she was settling in. She played cards with some of the residents, attended the programming events, and began to refer to the place as "home". She also found great satisfaction in having her older brother Abe living there, until his passing this spring. That surely added to a sense of home for both of them.
Mom had a good sense of humor and a quick smile. She liked to joke with others, whether it was the staff, or residents, or her doctor. She usually had a positive outlook and would often say "We're doing the best we can."
Helen had kept in her possession an old poem titled "Don't Quit". It was written by the American poet, John Greenleaf Whittier in the 1800's. Above the title on mom's version, she had added "Helen's Philosophy" The theme of the poem is about pushing through the tough times, allowing for weariness and sighs, but never quitting
Helen loved to write poetry and had a real talent for the rhyme. She created lengthy commemorative poems and shorter special event poems that she loved to share publicly. She can even lay claim to having her work published in a book of prose and poetry. She also had an amazing memory. This included being able to recite works learned 80 years earlier in school. Where she really shone was her ability to correctly recall the names of many cousins, nieces, and nephews, as well as their spouses. She could also correctly recall the birthdays and anniversaries of her many family members. In addition, if someone wanted to know the birth order in a particular family, Helen could provide it. Helen was always proud to introduce her children to others. She was always appreciative of those drop-in visits by people in the community and by nieces, nephews, and other extended family members.
Left to mourn her passing are daughter Valerie Braun and her children Richard and Rhonda; son Merv (Debi), and their children Dejan, Wesley, and Krista; daughter Vicky Furman; daughter Glenda Letkeman, and her daughter Allison; son Kelvin (Karen Henderson), and their son Devon, and seven great-grandchildren. Those great-grandchildren are Kayla Braun, Mariah Braun, Braxton Braun, Gabby Letkeman, Jude Letkeman, Berlyn Bibby, and Samantha Croft. Also, left to mourn is her one remaining sibling, Dora Hershmiller. Helen was predeceased by her husband in 1982.


Share Your Memory of
Helen
Serving Southwestern Saskatchewan Since 1982