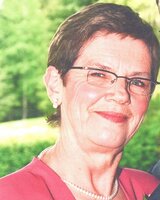 Bonny Lee Neufeld
The family of Bonny Neufeld, 78, of Swift Current, Saskatchewan, is saddened to announce her sudden and unexpected passing on June 28th, peacefully at her home.
Bonny leaves to mourn, her husband, Bob Neufeld, her children Skip Neufeld (Leslie), Jamie Neufeld (Jennifer) and Jodi Salmon (Todd). As well as her grandchildren Alexandra, Amy, Evangeline, Malcolm, Charlotte and Lilyanne. She is is also survived by her brothers Lance Sawatsky (Lorraine) and Ryan Sawatsky (Diane) as well as numerous brother and sister-in-laws, nephews, neices and cousins.
Bonny was predeceased by her father Peter Sawatsky, mother Tena Sawatsky (nee Loewen), father in law, William Neufeld, mother in law, Elizabeth Neufeld, sister-in-law Sue McPhee (Neufeld), brother in laws Terry McPhee, John Regier, and Pete Wiens.
Bonny was born on March 14th 1944 in Swift Current, Saskatchewan. She grew up in Ashley Park and developed many lasting friendships and fond memories of her time spent growing up in the neighborhood. After graduating from high school, Bonny went on to study education and became a teacher where she taught Phys. Ed. at the elementary school in Wymark Saskatchewan. There she met Bob while playing volleyball. They married in 1970. She stopped teaching to raise a family but would occasionally substitute teach. When her children were older she returned to work as a secretary at the Full Gospel Church. After that Bonny headed back to the the education field as a resource librarian for the school division until her retirement. Bonny was very strong in her faith which she was taught from her grandmother and passed on to her children and grandchildren. She loved attending church and was active with the church community. She loved listening to worship music and leaned on Jesus in tough times. She often recounted how blessed she was.
Bonny was very active and loved being with friends and family. She was very personable and could make friends easily. She was very close with Elenore Forge and Marilyn Stevenson and would often visit or take trips with them throughout her life. Bonny and Bob also loved to travel visiting their children in Lethbridge and Dallas as well as visiting family in Vancouver, Arizona and laCrete. They also traveled to various places for horse shows and, later on in their retirement years, would travel with friends to Texas and Mexico. She loved horseback riding and would ride her horse Sandy quite often. She was involved with a yearly trail ride in the Cypress Hills with other friends and family which she always enjoyed. What Bonny truly loved more than anything was being a wife, mother and grandmother. She loved and was very proud of the three children that she and Bob raised as well as their spouses and grandchildren.
We will all miss her laugh, her eagerness to listen, offer encouragement and her loving hugs.
Click on the link to watch Live-Streaming of the service https://boxcast.tv/view/bonny-neufeld-funeral-service-kemmu30nf96v4sug6qtg