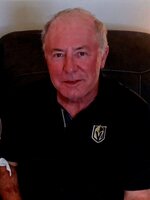 Donald Brian Bassendowski
BASSENDOWSKI - Donald Brian
We are saddened to announce the passing of Donald Brian Bassendowski on June 28 2022, at the age of 63.
Don was born in Swift Current, Saskatchewan in 1959 to Reinhardt and Elsie Bassendowski. He grew up on the family farm south of Swift Current with his siblings Shirley and Ken. Don met his wife Joyce at the age of 16, eventually spending 47 years together. After high school, Don graduated with his Heavy-Duty Mechanic Journeyman Certificate, working at Eagle Farms and also on the family farm.
Don and Joyce eventually moved out to the family farm permanently, having two sons – Colin and Jeffrey Bassendowski. They also welcomed two daughters-in-law - Heather Jaenen and Brandi Joanette, as well as two granddaughters – Emersyn and Rayna Bassendowski.
Don worked hard in the shop as well as on the farm and could fix anything, but he also took time to spend with family and friends. He loved sports, cheering for the Edmonton Oilers, Dallas Cowboys, and Swift Current Broncos, where he had season tickets for years. Don also loved boating on Lac Pelletier, coffee with his friends, spending time with his kids and grandkids, and going to Mexico every year (sometimes twice a year) with his wife.
Don's friendly demeanor, work ethic, honesty, integrity, and generosity significantly impacted everyone who knew him. While he will be sorely missed by his friends and family, the people that knew him were fortunate to have had him in their lives.
In lieu of flowers or gifts, please direct any contributions as a donation to the Canadian National Institute for the Blind (CNIB) through the following link: https://cnib.ca/en/support-us/give?region=sk
The family would also like to extend its gratitude to the staff at Clover House and the Cypress Regional Hospital for the level of care Don received.
Gone but not forgotten. We will miss you, but never forget you.