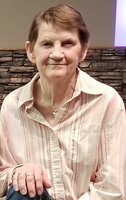 Kathy Rude
RUDE – Katherine Rose – November 24, 1949 – February 13, 2022
It grieves us to announce the passing of Kathy Rude, beloved spouse, mom, grandma, sister, aunt(y) and friend on February 13, 2022.
Kathy is survived by her husband of 44 plus years, Reg Rude and their 4 children: Darrel (Amy), Peggy (Kim), Andrew (Jodi) and Tanya; Her 13 grandchildren: Tayshia, Victoria, Stephen, Dawnella, Cira, Sara, Evan, Kyle, Alexa, Breanna, Chayce, Lucas and Layla; Her brothers: John, Cornie (Jo) and Ben; Her Sister Annie: Her brothers-in-law Gord and Keith (Kim): Her sisters-in-law Bev, Vi and Norma.
She was predeceased by her Parents Peter and Helena Dyck, her mother-in-law Anne Sunby, her brothers: Abe (Anne), Henry, Peter, Elmer and Roy; Her sisters Mary (Walter) and Helena Edna; Her brother-in-law Danny and her sister-in-law Margie.
Kathy grew up in Herbert SK with her 7 brothers and 2 sisters. She met her future husband, Reg Rude, in 1974 when he came in for coffee with his co-workers from the garage while she was working at the Modern café as a waitress. They soon fell in love and were married in Kindersley in 1977. They raised their 4 children in Leinan, SK. until 1986 when they moved into Swift Current. Kathy worked as a waitress at the Akropol café for almost 4 decades until she retired in 2017. She was loved by her co-workers, employers, and regular customers.
Kathy was very close with her family. Her children and grandchildren were her pride and joy. She enjoyed attending any game or concert her grandkids were in whenever she could. She was always up for showing them off to anyone who asked and even those who didn't. One of her favorite past times was going for coffee with her siblings and lifelong friend Norma. Like many of her siblings, Kathy was very musically inclined and able to play music by ear. She played the organ for many years of her life as well as the accordion and sang. Kathy was also a very avid bowler in her younger years. She had earned many trophies and accolades for her bowling skills. She had even mastered the "Fred Flintstone" dance whenever she got a strike.
"Though her smile is gone forever, and her hand I cannot touch, I still have many memories of the one I loved so much. Your memory is my keepsake, with which I'll never part. God has you in his keeping, I have you in my heart. Sadly missed, but never forgotten."
Click on the following link to watch the livestreaming of the service https://boxcast.tv/view/kathy-rude-funeral-service-522023